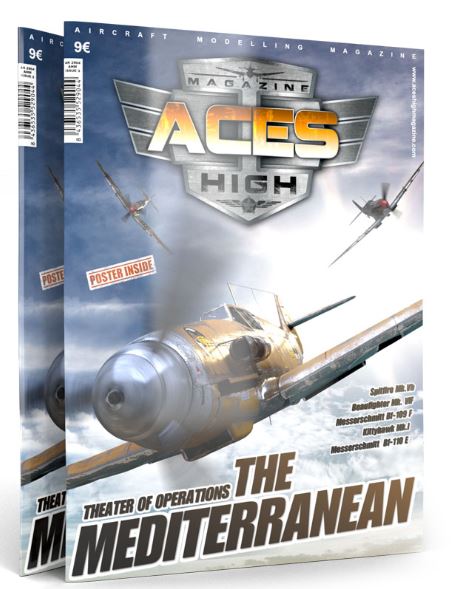 AK Interactive Books/DVDs Aces High #4 The Mediterranean
Manufacturer: AK Interactive Product Code: AK2906
---
Books/DVDs Aces High #4 The Mediterranean
Specifications
In this fourth issue of Aces High, we dealt with the Mediterranean Theater of Operations (MTO) during World War II. Bearing in mind that it would be impossible to cover the airplanes of all the nations that fought in this area, in a single magazine, this time we decided to focus on the Luftwaffe and RAF apparatuses. We have chosen the most emblematic machines used by the best pilots: a Spitfire Mk.Vb, with its distinctive tropical Vokes filter; A Kittyhawk Mk.I, carrying the famous brand of shark in the nose of sharkmouth; A Bf 109 F-4 trop, finished as the assembly of the legendary ace, Hans-Joachim Marseille; A Beaufighter Mk.VIF, with a slightly more unusual hunting scheme in the desert, and a Bf 110 E-2 trop, which served as a combat aircraft, bomber and ground attack. To complement our aircraft constructions, we include step-by-step articles that show you how to paint a figure of a pilot, and a half-track truck. Content :
- Bristol Beaufighter Mk.VI F
- Messerschmitt Bf 109 F-4 Trop.
- Messerschmitt Bf 110 E-2 Trop.
- Kittyhawk Mk.I
- Spitfire Mk.Vb Trop.
- Hans-Joachim Marseille. Figures.
- Desert Maultier.
Latest Products
You may also like