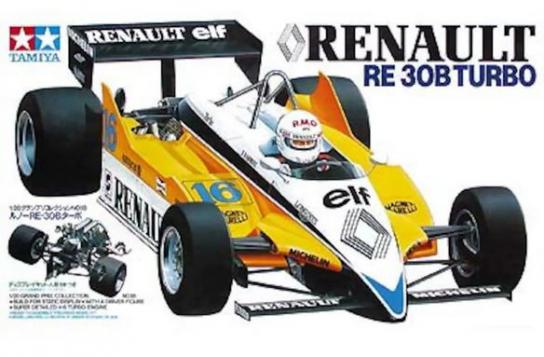 Tamiya 1/20 Renault RE-30B Turbo Kit **RARE VINTAGE**
Manufacturer: Tamiya Product Code: 20018
---
1/20 Renault RE-30B Turbo Kit **RARE VINTAGE**
Specifications
Scale: 1/24
In 1966, the FIA ruled that normally aspirated engines would displace 3.0 liters and turbocharged engines would displace 1.5 liters. Most of the teams were not willing to give up half the cubic displacement and turbos were know for "turbo lag" on acceleration.

Renault, however, decided to give it a try in 1977 with their RS-01. No wins were forthcoming, but Renault continued to improve the engine. In 1979 the RE-10 utilized twin turbos and ground effects. Jean-Pierre Jabouille won the French Grand Prix and took four pole positions. In 1980, the RE-20 brought the team 3 wins and the writing was on the wall. So much so that Renault, Ferrari, Toleman, Brabham and Alfa Romeo all entered 1.5 liter turbo cars in 1982.

The RE-30B, introduced in 1982, was a twin-turbo, intercooled 1492cc V-6 producing 560hp. An intercooler is only used on a turbocharged engine and helps cool the intake air for better performance. It is said that for every degree in cooling an increase of 1 horsepower is possible. The RE-30B made it debut at the South African GP with Alain Prost winning. Prost and Arnoux finished 1 & 2 at the French GP and they went on to win at Italy and were on pole 10 out of 16 times.
Latest Products
You may also like