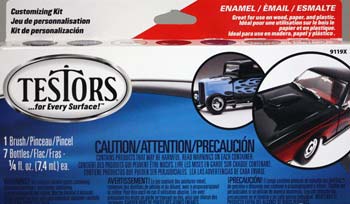 Testors Custom Car Enamel Paint Set
Manufacturer: Testors Product Code: TES 9119
---
Testors Custom Car Enamel Paint Set
Specifications
FEATURES:
Enamel paint and thinner contains no lead.
Contains organizing tray for easy and efficient storage.
Paint brush is also included with kit.
Clear picture on the back of packaging displays various
paint colors.
INCLUDES:
Six Enamel Paint Bottles
FLAT BLACK
FLAT GRAY
FLAT WHITE
GLOSS RED MTL FLK
GLOSS BLUE MTL FLK
SILVER CHROME TRIM
One Thinner
One Paint Brush
One Organizing Tray
REQUIRES: Use included thinner for clean up.
SPECS: Tray: Length: 8″ (203mm)
Width: 4″ (101mm)
Height: 1″ (25mm)
Paint Bottles: 1/4oz (7.5ml) each
Latest Products
You may also like