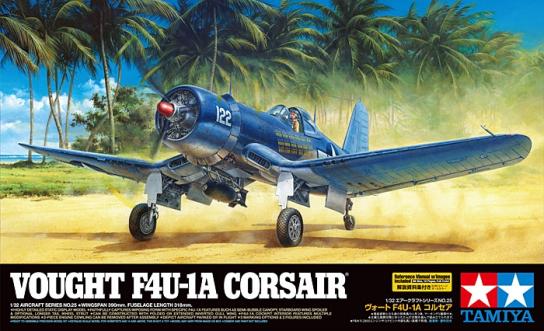 Tamiya 1/32 Vought F4U-1A Corsair Bubble Canopy
Manufacturer: Tamiya Product Code: 60325
---
1/32 Vought F4U-1A Corsair Bubble Canopy
Specifications
Scale: 1/32
This is a highly detailed model recreating the F4U-1A variant of the highly popular Corsair model. Newly-designed parts are included in the kit to accurately capture the modifications which distinguish it from the original F4U-1.
One of the most noticeable alterations was the discarding of the "birdcage" cockpit and its extensive frame sections that hampered visibility; a semi-bubble canopy with minimal frame was installed instead, which improved the pilot's view and made it easier to land the F4U-1A. Additional upgrades included raising the pilot's seat 18cm to help with visibility, and later extending tail wheel struts by 16.5cm. A wedge shaped spoiler was added to the starboard wing to correct the tendency of the port wing to stall first and roll out of control.
Scale: 1/32
Construction type: Assembly kit
Photo-etch parts: Included
Decals: Included
Special Features
-The model captures the upgraded form of the F4U-1A variant with precision, including the semi-bubble canopy and raised pilot seat. This required newly-designed cockpit interior parts. Details such as new instrumentation panel and console designs are also depicted.
-Clear engine cowling parts are included. (Note: Only for the US market)
-Modelers can choose whether to assemble the model with its distinctive inverted gull wings extended or folded away.
-Flaps and elevators can also be depicted in open or closed positions.
-Starboard wing spoiler is recreated.
-Includes 2 types of tail landing gear wheel to enable depiction of elongated strut.
-Comes with parts depicting drop tank and 500lb bomb.
-2 figures depict pilot in seated or standing position.
-The complex Pratt & Whitney R-2800 engine is faithfully depicted in all its glory, including early variant distributor. Removable 2-piece engine cowl allows the engine to be viewed.
-Includes 3 sets of markings and painting guide. Recreate U.S. Navy or Marine Corps unit aircraft.
Latest Products
You may also like