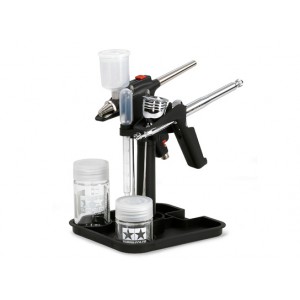 Tamiya Spray-Work Airbrush Stand II
Manufacturer: Tamiya Product Code: 74539
---
Spray-Work Airbrush Stand II
Specifications
74539 Spraywork Airbrush Stand II
Convenient airbrush stand which is ideal for users of airbrushes.
This airbrush stand features newly-designed airbrush holders which are compatible with Tamiya Airbrushes.
You can place 2 airbrushes on the stand.
The tray type base will catch paint spills to protect your workspace from stains.
Please note that this stand is not compatible with Tamiya Badger Airbrushes.
Latest Products
You may also like